$4399
Export
€3899
Europe
100 watts of pure, in-your-face guitar tone in a modern, midi controllable, 3 channel amp. Dedicated to Modern sounds, from crystal clear Clean, through a classic punchy Crunch, to High Gain Nirvana. Finally the best of the MZero and the Z Series in a single amp that offers the full range of the incredible tones available from Mezzabarba.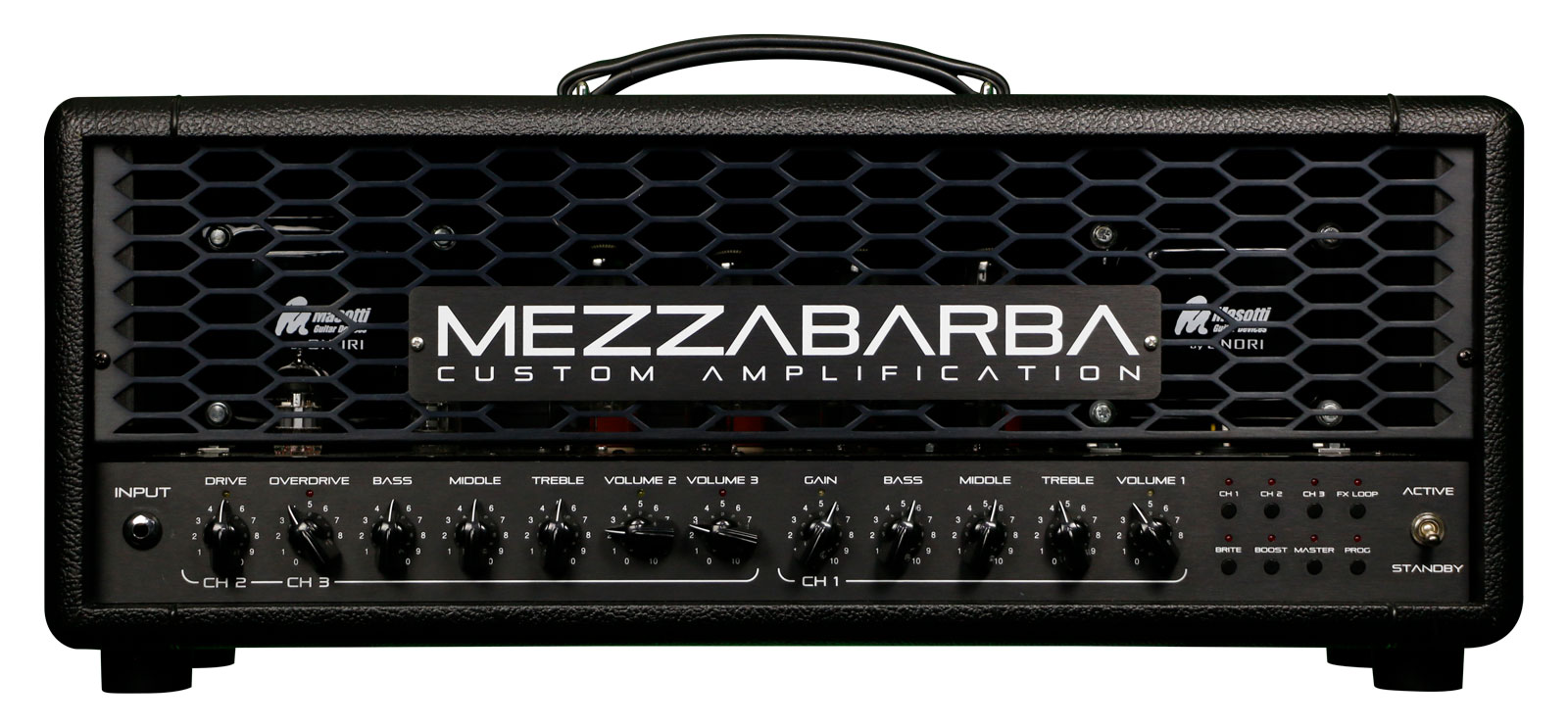 Three Versatile Channels
Channel 1
This channel is all about tonal definition and is a perfect balance between our Z Series and the MZero. It produces a transparent, authentic clean tone that is both warm and brilliant at the same time and with harmonic overtones to die for. With the boost engaged you can go for American/British classy crunch, with tons of dynamic and punch.
Channel 2
What stands out the most is the explosive dynamics this channel offers. This channel can range from a "bitey" mild distortion to that sought after vintage, harmonic rich crunch a là AC/DC that is so hard to find anymore, until a brutal hot-rodded tone you can have with the boost engaged.
Channel 3
Hot, defined and ballsy is the only way to describe it. Fluid, saturated distortions that are dripping in harmonics. From a perfect crunch to a searing lead tone, this channel features a boost switch for two different voicings, one for Rhythm definition, one for smoothest and fullest Solo Parts. The 3rd channel will take you to distortion bliss.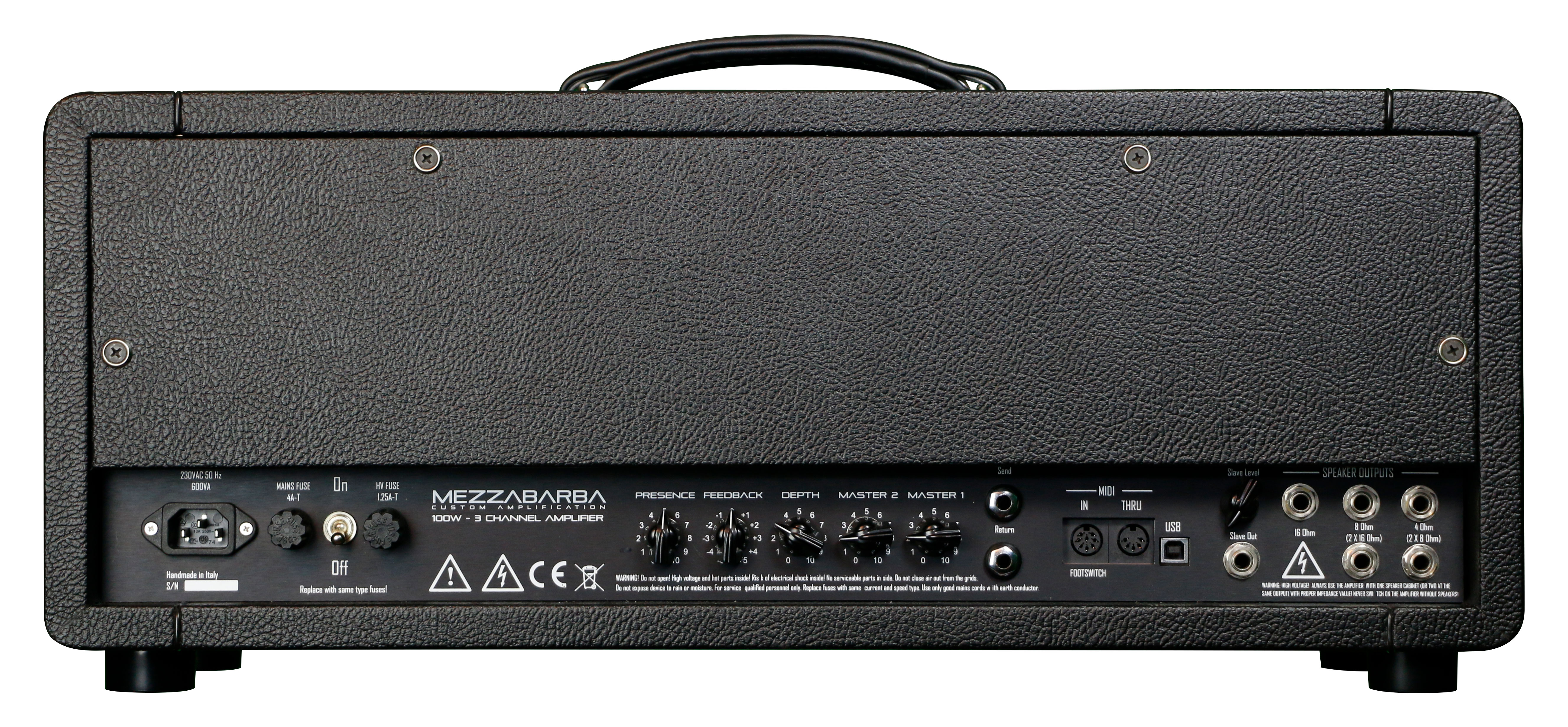 Trinity can be built with either EL34 or 6L6 power tubes.
EL34

Version

This version uses 4 EL34 tubes to deliver a raw, fiery tone with lots of bite, but with the signature Mezzabarba fullness and power. The amp results in a more mid-focused and aggressive tone, perfect for classic Rock, Hard Rock and Metal.

A new interpretation of the British sound, with a proud and aggressive soul.
6L6

Version

With 6L6 tubes the amp results in a more edgy, full but balanced tone, perfect for today's Modern Rock and Metal, and for devastating the first 30 rows.

Strong, heavy, but still round and elegant, perfect for any style of music.

For players that need a modern, super-versatile, ultra-dynamic and ultra-defined amplifier.
Features and technical specifications
Dedicated to Modern sounds, from crystal clear Clean, through a classic punchy Crunch, to High Gain Nirvana
3 channel head: Clean, Drive and Overdrive – for 24 different sounds + FX Loop, all programmable.
A total of 48 different settings with 128 presets
Every channel has Boost, Bright, Dual Master and FX Loop functions
Preamp controls: Gain (Ch.1), Bass, Middle, Treble, Volume 1 – Drive (Ch.2), Overdrive (Ch.3), Bass, Middle, Treble, Volume 2, Volume 3
Power Amp controls (Rear): Master 1 and Master 2, then Presence, Feedback and Depth for power amp overtones
All tube FX loop
Midi, programmable, PC and CC functions. 128 Presets. Midi In, Midi Thru
Custom Transformers by Onori
Preamp tubes: 7 x 12AX7
Power tubes: 4xEL34 or 4x6L6, 100W
Dimensions: 62 x 24 x 24h cm
Weight: 19 Kg
Download the Trinity EL34 User Manual
Download the Trinity 6L6 User Manual
Footswitch
+200 USD Export
+200 EUR Europe
Custom 1 Color Tolex
+100 USD Export
+100 EUR Europe