The ERIC STECKEL
M

ZERO OVERDRIVE
$4399
Export
€3899
Europe
This amplifier is the brainchild of designer Pierangelo Mezzabarba and longtime Mezzabarba endorser: American Blues/Rock guitar slinger Eric Steckel.
Eric and Pierangelo took the existing M-Zero platform and tweaked it to Eric's wishes. The ES signature version contains an increase in gain, low mids, bass, and depth. The Presence knob works to add aggression and upper mid attack.
This amplifier is an identical recreation of the amp Eric uses on tour and in the studio.
Two Versatile Channels
Channel 1 (Drive): From a pure and elegant clean to a very punchy british crunch, thanks to the Boost and Brite switches.
Channel 2 (Overdrive): The holy grail of tube driven overdrive: hot, harmonically rich with impressive presence and punch even in extreme distortion.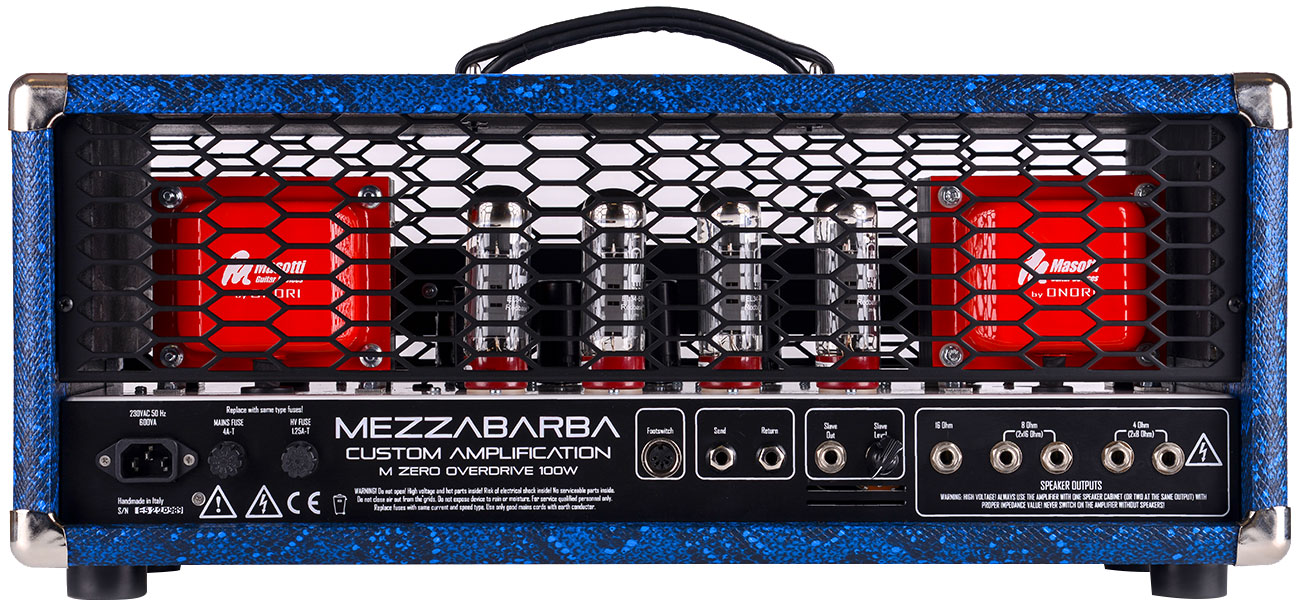 Features and technical specifications
Entirely engineered and hand-built by Pierangelo Mezzabarba in Italy.
Dedicated to saturated sound, from Clean/Crunch to High Gain.
Dual channel for 4 sounds: Clean, Boost, Extra Boost, Overdrive.
Drive channel with Boost and Bright switches.
Drive channel with Extra Boost by footswitch.
Preamp controls: Drive (Ch.1), Overdrive (Ch.2), Bass, Middle, Treble, Volume 1, Volume 2
Power Amp controls: Presence, Depth and Feedback for power amp overtones.
All Tube FX Loop (serial).
Custom Transformers by Onori
Preamp tubes: 5 x 12AX7
Power tubes: EL34, 100W.
Dimensions: 62 x 24 x 24h cm.
Weight: 20 Kg
Download the MZero Overdrive User Manual
Dual Master
+300 USD Export
+250 EUR Europe
Midi
+750 USD Export
+600 EUR Europe
Custom 1 Color Tolex
+100 USD Export
+100 EUR Europe